Our final camping trip of the season (very unfortunate since this has been the best and warmest summer ever in AK), but since my sister and her fab fam were visiting in July, then the epic Sadie Cove adventure, followed by Grandma & Grandpa Ochoa (Mister's parents) coming over to spend August with us...our schedule really didn't have any more room for another one.
Tenderfoot Creek Campground sits on the shore of Upper Summit Lake, between Portage and Moose Pass on the Kenai Peninsula.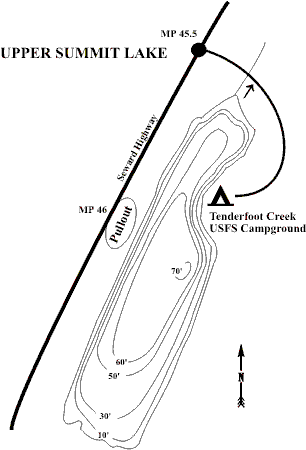 We scored a lakeshore campsite that had its own little path to the water. Those two days are about the only two days this summer that it rained. We were lucky, though, as it only sprinkled just a little bit the night we were setting up.
This was a special trip since we were accompanied by some great friends who were also eager to try a new pastime: geocaching!
Geocaching involves a network of people who hide little treasures and post the GPS coordinates on a website for others to find. The caches can range from a small container with just a little log for finders to sign their names on to ammo cans full of little trinkets. Caching etiquette calls on finders to leave one of their own treasures if they are going to keep something from the cache.
Our first treasure hunt led us only a bit down a dirt road from the campground, and up the abandoned ski resort hill.
The kids gathered around the cache to collect their treasures.
View from the cache with the collapsed ski chair pull to the left.
Wonderful thing about campfires...they bring the family together through stories, games, jokes, and SMORES!
She was so excited that daddy finally let her use a REAL knife. She whittled sticks all night she gave herself blisters!
The kids loved those foil wrapped Jiffy Pop popcorn kits.
We especially loved the dice games we played in the tent. I don't think we slept earlier than midnight those nights (you could never really tell since it didn't get dark).
This wasn't a blow-your-mind beautiful camping location. Just a simple little two-night getaway for the family. But it's still as special as all the rest of our adventures because we spent it together.